THE FIRST EVER IDEAS MAN CALENDAR 2009
It took a while to make, but it's been worth it...hope you'll agree...
Download it now by clicking on this link:
http://www.ideasman.co.uk/Ideas_Man_Calendar.zip
See the Press Release for it below...
Click on the red type for the Amazon link to Shed Simove's great book - IDEAS MAN
And click on the top section above to return to the main homepage...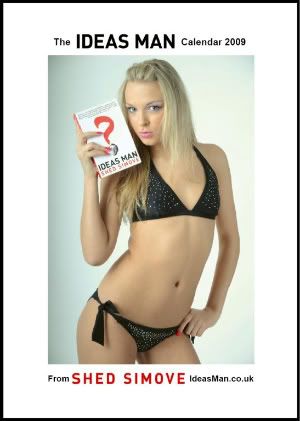 -----
This is the press release for it...
PRESS RELEASE
For immediate release Jan 2009
***BREASTSELLER***
DESPERATE AUTHOR TRIES TO RIVAL PIRELLI BY CREATING HIS OWN SEXY CALENDAR
Author and entrepreneur Sheridan 'Shed' Simove has released a calendar in a bid to boost flagging sales of his latest book, 'IDEAS MAN'.
Simove says he tried to create a calendar to rival the very famous sexy Pirelli calendar that comes out every year.
"It could be argued that my first calendar is more 'Dunlop' than 'Pirelli', but nevertheless I'm very proud of it. I've put together a rather special selection of models in their swimwear and they're shown showcasing the various products I design and sell, plus some of the babes wear the very innovative new BOOK BRA that I've created too", he says.
Even though his publisher isn't pleased with him releasing the calendar (they publish high-brow authors like Dan Brown, who wrote 'The Da Vinci Code'), Simove is nevertheless sending it out to everyone he knows.
"I've had nothing but good feedback so far and a few girls that have received it have even offered to pose for next year's version…", he says.
END